PoLiMeR Final Symposium
PoLiMeR Final Symposium
Polymers in the Liver – Metabolism and Regulation

28-31 March 2022
Düsseldorf, Germany
Metabolic diseases are a burden on the European population and health care system. It is increasingly recognised that individual differences with respect to history, lifestyle, and genetic make-up affect disease progression and treatment response. A Systems Medicine approach, based on computational models fed with individual patient data, has the potential to provide the basis for a personalised diagnosis and treatment strategy. The PoLiMeR consortium (Polymers in the Liver: Metabolism and Regulation) has identified the inherited, liver-related diseases of glycogen and lipid metabolism as the ideal starting point for innovative research training in personalised 'Systems Medicine'. These diseases are life-threatening for children. Since each specific disease is rare, research efforts are diluted. Our system-based perspective opens possibilities for the application of novel drugs and diagnostic tools to a range of different diseases. This symposium presents the results of the PoLiMeR consortium and recent research of related research activities.
The symposium will be organised as a live event, featuring:
keynote lectures

invited presentations

presentations from the PoLiMeR PhD students

selected presentations

poster sessions
Program
The program will start on Monday afternoon 28th of March with a welcome by the PoLiMeR project coordinator Prof. Barbara Bakker followed by the opening lecture. On Tuesday, Wednesday, and Thursday, we will have plenary sessions starting with a presentation by an invited speaker followed by presentations of the PoLiMeR PhD students and selected presentations. During the lunch breaks on Tuesday and Wednesday there will be poster sessions. The symposium will be closed on Thursday afternoon by a closing lecture and lunch. There will be sessions on:
Session I – Enzyme catalysis at the polymer surface
Experimental and computational tools that can resolve spatiotemporal aspects of enzyme catalysis at the complex polymer surface.
Session II – Pathway dynamics
Experimental tools and computational models to analyse the impact of substrate competition on pathway dynamics.
Session III – Combinatorial explosion of molecular species
Analytical methods and genome-scale modelling approaches to analyse and interpret complex lipid profiles.
Session IV – Spatial and hierarchical regulation
Experimental and computational methodologies to follow polymers in the cell and to integrate this spatial regulation with classical levels of regulation.
Session V – Natural Language Processing for the Life Science
Improving the findability of data  by using information retrieval methods and how we can enable users to store their results in a way that the results are most easily found, even if the query is imprecise.
Besides the scientific program, we will also have a social program which consists of a get-together on Monday evening with drinks and snacks and a symposium dinner on Wednesday evening. More information will follow soon.
Draft of the program can be found here.
Speakers
The following speakers have already confirmed:
Sabine Fuchs
Paediatrician metabolic diseases at University Medical Center Utrecht.
Thomas Hankemeier
Full professor of Analytical BioSciences at the Leiden Academic Centre for Drug Research, Leiden University.
Sophia Ananiadou
Professor in the School of Computer Science at the University of Manchester and is the director of The National Centre for Text Mining (NaCTeM) the only centre of its type in the world.
Ronan Fleming
Senior Lecturer at the National University of Ireland, Galway, and assistant professor in the group of Systems Medicine and Pharmacy at the University of Leiden.
Grant Mitchell
Clinician and a biochemical and molecular geneticist at the CHU Sainte-Justine Mother and Child Hospital Center.
Venue
The PoLiMeR Final Symposium will take place at Haus der Universität in Düsseldorf, Germany.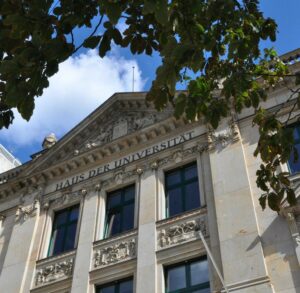 Address
Haus der Universität
Schadowplatz 14
40212 Düsseldorf, Germany
Travel & Accommodation
Düsseldorf, the capital of North Rhine-Westphalia, is located in the heart of Europe and has an optimal infrastructure. Just choose your preferred means of transport – Düsseldorf is easy to reach, whichever route you take.
Travel from Düsseldorf Airport to Haus der Universität
Leaving from the Düsseldorf Airport Terminal (Terminal C), take the S11 train (S-Bahn) to the Düsseldorf main station. Take the subway (U-Bahn) from there (see below for the various subway lines).
Travel from Düsseldorf Main Station to Haus der Universität
The Haus der Universität is only three subway stops (U-Bahn stop Heinrich Heine Allee) away from the Düsseldorf main station. Subway lines: U74 (Meerbusch), U75 (Neuss), U76 (Krefeld), U77 (Am Seestern), U78 (Arena / Messe Nord), U79 (Duisburg).
Haus der Universität is located in the city center of Düsseldorf, which makes all hotels located in the city center suitable.
Registration
Registration fee for non-PoLiMeR consortium member is €150 and includes catering during the symposium, get-together with drinks and snacks on Monday evening, and the symposium dinner on Wednesday evening. Registration is closed.
Abstract submission
The Symposium organisers are pleased to invite you to submit an abstract in one of the sessions (see program). Submitted abstracts should be in English and cannot exceed 250 words.  In the second week of March, you will be informed if your abstract has been selected for an oral or poster presentation. Accepted abstracts will be displayed on the PoLiMeR website and collated in a digital abstract book which will be distributed among the symposium participants.
Abstract submission is closed.
Corona measures
Please check the following websites for the current corona measures in Germany and Düsseldorf:
---